Caring for You, Caring for Me

Education and Support for Family, Professional, and Volunteer Caregivers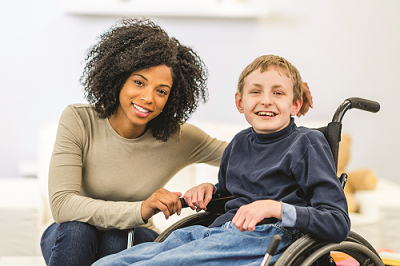 This program addresses the needs of family and professional caregivers by bringing them together in a relaxed setting to discuss common issues, share ideas, and gain a better understanding of each other's perspective on what it means to be a caregiver. It's a 10-hour program, conducted in five two-hour modules. The goals are for caregivers to have the opportunity to:

• Gain information on various topics related to caregiving;
• Learn ways of coping with the stresses and strains of being a caregiver;
• Learn what resources are available locally, regionally and nationally;
• Discover ways of working together to reduce frustrations and barriers in the caregiving experience; and
• Share common concerns and issues.

Course Content:

• Module 1: What It Means to Be A Caregiver

This session is designed to introduce the program to participants, help them develop a broader understanding of caregiving, and provide an opportunity for sharing caregiving experiences with one another. A major goal of this session is to promote an atmosphere of openness and trust within the group and help participants understand that they are not alone.

• Module 2: Taking Care of Yourself

Caregivers often become focused on and consumed by the needs of care receivers and others involved in the caregiving process. As a result, they may neglect their own needs, failing to take care of themselves, identify possible repercussions if they don't take care of themselves, and determine ways to improve their "self-care" skills.

• Module 3: Building Cooperative Relationships

Caregiving relationships involve a minimum of three people: a care receiver, a family caregiver, and a professional caregiver. The relationship between family and professional caregivers is pivotal in providing appropriate, effective care for the third party, the care receiver. This session focuses on understanding and building cooperative relationships between the two types of caregivers. Professional and family caregivers have an opportunity to share their thoughts about which characteristics and behaviors make each type of caregiver "helpful" or "unhelpful". They then offer advice to one another on improving their cooperation and collaboration.

• Module 4: Preventing and Solving Problems

Over the course of a caregiving career, individuals are confronted with many types of problems. This session is designed to help participants understand and use a problem solving model. The model is introduced with a case study. Participants then spend time in small groups practicing use of the model on real problems group members are currently experiencing.

• Module 5: Accessing and Developing Resources

Identifying and understanding resources available to caregivers in various communities is often intimidating and confusing – even to caregivers who work in an agency or organization included in the professional service system. This session is designed to help caregivers understand the barriers that prevent them from accessing resources; help them develop strategies for navigating the system of care and services, and learn about resources available in their communities. It is usually helpful to invite someone knowledgeable about local services to speak to participants during this session. Professional caregivers within the group should also be encouraged to share information about their agencies or organizations and the services they provide.

The Caring for You, Caring for Me Program Leader Guide provides detailed instructions for Program Leaders in the delivery of each module.  The required PowerPoint slides with the suggested script and module format are provided along with handouts for replication for each participant.  Health care and human service professionals and volunteers who lead groups and/or conduct educational or training programs for caregivers should easily conduct the program with no additional training from the Rosalynn Carter Institute for Caregiving.  If questions do arise, please call Gayle Alston at 229-928-1234 or email Gayle.Alston@gsw.edu.
To purchase the 3rd Edition of the Caring for You, Caring for Me Program Leader Guide, send a check for $54 made out to "Rosalynn Carter Institute for Caregiving" to:
The Rosalynn Carter Institute for Caregiving
ATTN: CFYCFM Guide
800 GSW State University Drive
Americus, Georgia 31709
Please also:
Indicate the shipping address where the guide should be delivered
Enter "CFYCFM" in the memo line on the check
Expect delivery of your guide within 3 weeks from posting your request.