RCI REACH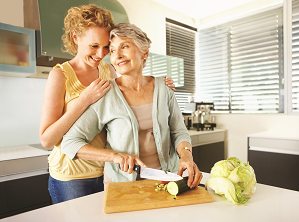 RCI REACH(Resources Enhancing Alzheimer's Caregiver Health) provides education, a focus on safety for the patient, support for the caregiver, and skills building to help caregivers manage difficult patient behaviors and decrease their own stress.
RCI REACH is an in-home, tailored, caregiver support intervention consisting of:

• 12 individual sessions in the home or by telephone; up to 9 face-to-face and 3 telephone sessions
• Data collection at beginning and end
• Program length 6 months
• Must complete 75% of sessions to be considered a program completer

Program Objectives:

• Improvement in overall caregiver health and depression
• Reductions in feelings of burden from caregiving
• Improvement in caregiver management of troubling behaviors of the care recipient
• Delay in institutionalization

From an RCI REACH Caregiver Coach in California:
"I just want to share how amazing the REACH experience has been. I just completed my first client yesterday – her burden and depression scale went from being really high to almost non-existent. I went home feeling so good about the changes in this family's life. Thank you for bringing this program to us!"

RCI REACH Eligibility Criteria: 
Family caregivers of persons with Alzheimer's disease/dementia
Watch this caregiver share her testimonial about how REACH helped her. "I have an attitude of gratitude!"
NOTE: RCI Staff, certified as Master Trainers, are available to train agencies or individuals interested in implementing this intervention. Contact Lezlie.Poole@gsw.edu for more information.
Agencies providing RCI REACH:

ALABAMA
Lee Russell Council of Governments Area Agency on Aging – Opelika, AL
East Alabama Regional Planning & Development Commission – Anniston, AL

CALIFORNIA
Camarillo Health Care District – Camarillo, CA

HAWAII
Catholic Charities – Honolulu, HI

IDAHO
Community Action Partnership, Area II Agency on Aging – Lewiston, ID

INDIANA
CICOA Aging & In-Home Solutions – Indianapolis, IN

MARYLAND
Washington County Commission on Aging Inc. – Hagerstown, MD

MICHIGAN
Senior Resources of West Michigan – Muskegob, MI
NEVADA
Nevada Senior Services – Las Vegas, NV

OREGON
Community Action Team, Inc. – St. Helens, OR

SOUTH CAROLINA
Greenville Health System: Memory Health Program – Greenville, SC

UTAH
Five County Assoc. of Governments Area Agency on Aging – St. George, UT

WISCONSIN
Fox Valley Memory Project – Appleton, WI
PUERTO RICO
Universidad Central del Caribe – Bayamon, PR