2016 Family Caregiver of the Year
Shelia Smith of Palmetto, GA receives Rosalynn Carter Institute's Georgia Family Caregiver of the Year Award
AMERICUS (Nov. 1, 2016)—Shelia Smith of Palmetto, GA received the 2016 Georgia Family Caregiver of the Year Award at the 29th Annual Rosalynn Carter Institute for Caregiving's National Summit Gala on Friday, Oct. 21. Smith was nominated by the Atlanta Regional CARENET/AAA for her compassion and selflessness to her family and her community.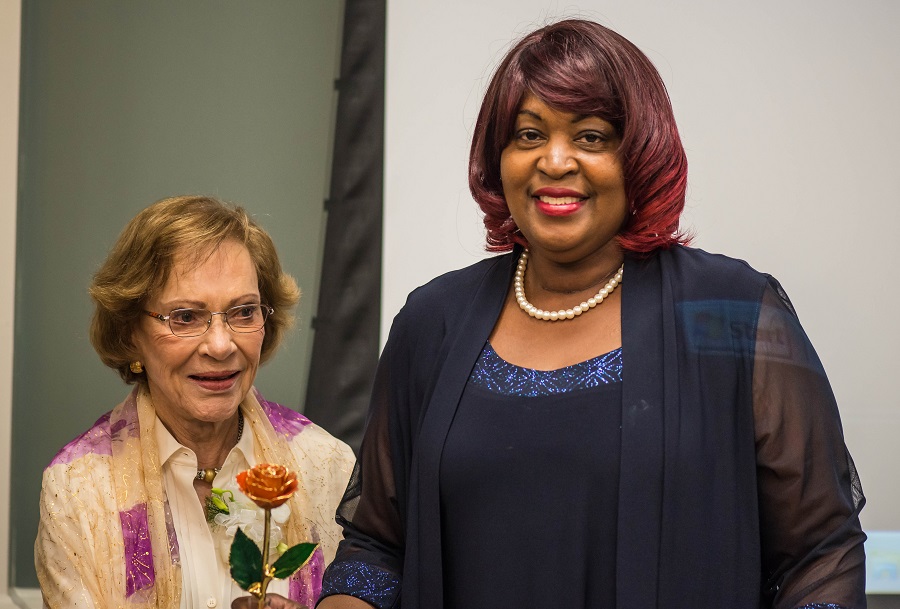 At 50 years old, Smith is raising five of her grandchildren after her daughter was unable to do so. Three of her grandchildren have autism and the other two have ADHD and other learning challenges. Unfortunately, in 2015, Smith was diagnosed with stage 3 papillary thyroid cancer. Even after surgeries and radiation treatments, she wanted to give back more to others.
"Shelia is the most selfless person I know," said Laura Wells with Innovative Solutions on Disadvantage & Disability in a nomination letter she submitted on behalf of Smith. "When she was diagnosed with cancer, she decided to get a part-time job as a caregiver helping others who can't leave their homes due to illness." Smith informed Wells that instead of feeling sorry for herself, she wanted to focus on others.
Smith has sought out all of the resources she could find to address her grandchildren's special needs. She continues to be their greatest advocate in the school and community. She joined Project GRANDD, a support group for grandparents raising grandchildren with disabilities. When gathering for Project GRANDD events, Wells said that Smith often uses her own money (even though on a very fixed income) to purchase small gifts for the other grandparents to win in a raffle. She is always the first to offer to help so the other grandparents can relax and get pampered.
"Shelia is truly the most compassionate caregiver I know," Wells said. "She gives so much of herself to others and never asks for anything in return. Shelia is the most deserving person in the world for the Family Caregiver of the Year award."
Beginning in 2007, the regional CARE-NETs around the state of Georgia have accepted nominations for exceptional caregivers in three categories: family, para-professional, and volunteer. From these nominations, regional winners are selected. These regional winners are then submitted for consideration by an award committee at RCI for the Georgia Caregiver of the Year in each of those categories.