Pepsi Faust of Winterville, GA Receives Rosalynn Carter Institute's Georgia Para-Professional Caregiver of the Year Award
AMERICUS (Nov. 1, 2016) – Pepsi Faust of Winterville, GA received the 2016 Georgia Para-Professional Caregiver of the Year Award at the 29th Annual Rosalynn Carter Institute for Caregiving's National Summit Gala on Friday, Oct. 21. Faust was nominated by the Northeast Georgia CARE-NET/AAA.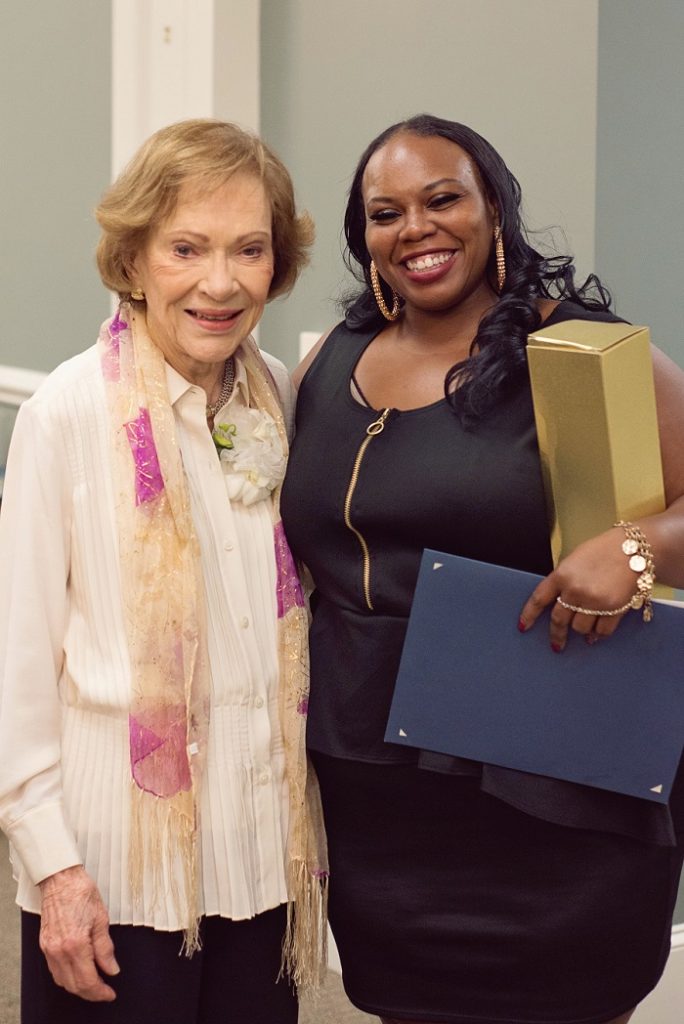 For the past ten years, Faust has dedicated her life to taking care of others. She trained to become a home health aide, went on to be a certified nursing assistant, and then a hospice aide. Faust began working for Nightingale Home Care in Watkinsville, GA as a CNA in 2007. She has taken care of some of the most critically ill and medically frail patients and dealt with numerous difficult situations. "Pepsi is known for her work ethic, kindness, respect, and dedication to her patients and co-workers," said Deborah Janitor with Nightingale Home Care in a nomination letter she submitted on behalf of Faust.
"No matter the circumstances, the compassion [Pepsi] feels in her heart for the elderly and disabled is unsurpassed by any aide," brags Janitor. "She goes above and beyond – every single day – to make sure she is truly making a difference in the world and always holding others accountable to her high standards as well."
When she is not caring for her patients, Faust is managing the majority of the care for her elderly grandmother and her niece whom she took full responsibility for. She integrated her niece into the family life with her own two children making sure she received the best education possible.
"Each day, Pepsi comes to work in a rambunctious and positive mood," stated Janitor. "Her saying is 'No one can steal the joy in my heart today!'. She always has encouraging words to say despite any challenges she faces, both personally and professionally. Her 'can-do' attitude toward any task is a great inspiration to everyone around her."
Beginning in 2007, the regional CARE-NETs around the state of Georgia have accepted nominations for exceptional caregivers in three categories: para-professional, family, and volunteer. From these nominations, regional winners are selected. These regional winners are then submitted for consideration by an award committee at RCI for the Georgia Caregiver of the Year in each of those categories.