2016 Volunteer Caregiver of the Year
Sue Crosby of Helena, GA Receives Rosalynn Carter Institute's Georgia Volunteer Caregiver of the Year Award
AMERICUS (Nov. 1, 2016) – Sue Crosby of Helena, GA received the 2016 Georgia Volunteer Caregiver of the Year Award at the 29th annual Rosalynn Carter Institute for Caregiving's National Summit Gala on Friday, Oct. 21. Crosby was nominated by the Heart of Georgia Altamaha CARE-NET.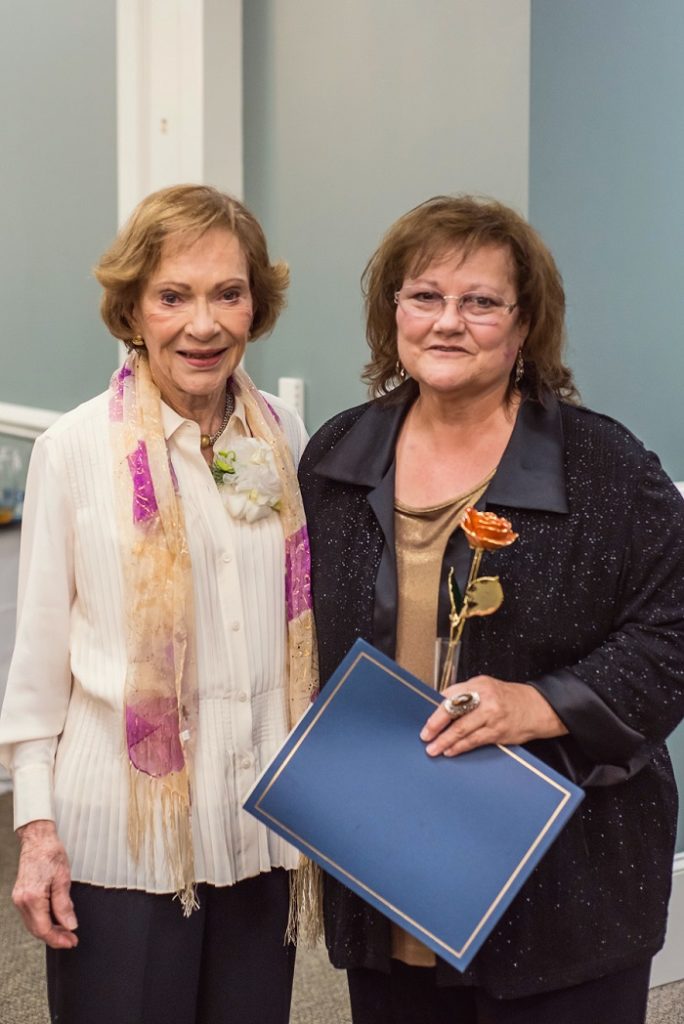 By profession, Sue Crosby is the Senior Center Manager in Telfair County. In this position and her involvement in her church, she realized there were many needs not being met for seniors. This drove Crosby's passion to recruit a number of volunteers to work with her to help with the tasks of meeting the needs of those in her community who do not have financial resources to pay for them.
According to Kathy Keith of the Heart of Georgia Altamaha CARE-NET in her nomination letter for Crosby, "Sue is an exceptional person and is filled with compassion and dedication to serve others. She serves in extraordinary and creative ways and has done this for so long, it is second nature to her."
Crosby and many others serve as in-home volunteers checking on people daily, making sure they have meals prepared, and going to the grocery store. She also established a telephone intervention program where volunteers can call on people to check on them. On Thanksgiving, she gets together with others from her church, cooks and delivers approximately 200 meals to individuals in Alamo, Glenwood, Lumber City, Eastman, and even some in nursing homes that request a delivery.
Crosby was the primary caregiver for her husband until his death and is now one of the caregivers to her mother who has Alzheimer's. When she is not working or looking after her mother, Crosby also serves as a Georgia Cares Volunteer helping people search for available resources, assisting them to get free medications, and aiding in the understanding of benefits available to them through Medicare and Medicaid.
"Ms. Sue Crosby is a true community champion, always keeping her eyes and ears open for someone who may be in need," said Keith. "She has a heart big enough to love and care for so many in her community and hands that are constantly working and doing for others. She is a lady on a mission!"
Beginning in 2007, the regional CARE-NETs around the state of Georgia have accepted nominations for exceptional caregivers in three categories: volunteer, family, and para-professional. From these nominations, regional winners are selected. These regional winners are then submitted for consideration by an award committee at RCI for the Georgia Caregiver of the Year in each of those categories.