Five Military Caregivers Receive Scholarships for their Commitment
Caregivers Honored at Rosalynn Carter Institute for Caregiving Summit by Former First Lady
AMERICUS, GEORGIA — At a celebratory dinner on October 27, the Rosalynn Carter Institute for Caregiving (RCI) awarded five deserving military spouses with Mattie J.T. Stepanek Caregiving Scholarships. They received a great distinction as well as a monetary award.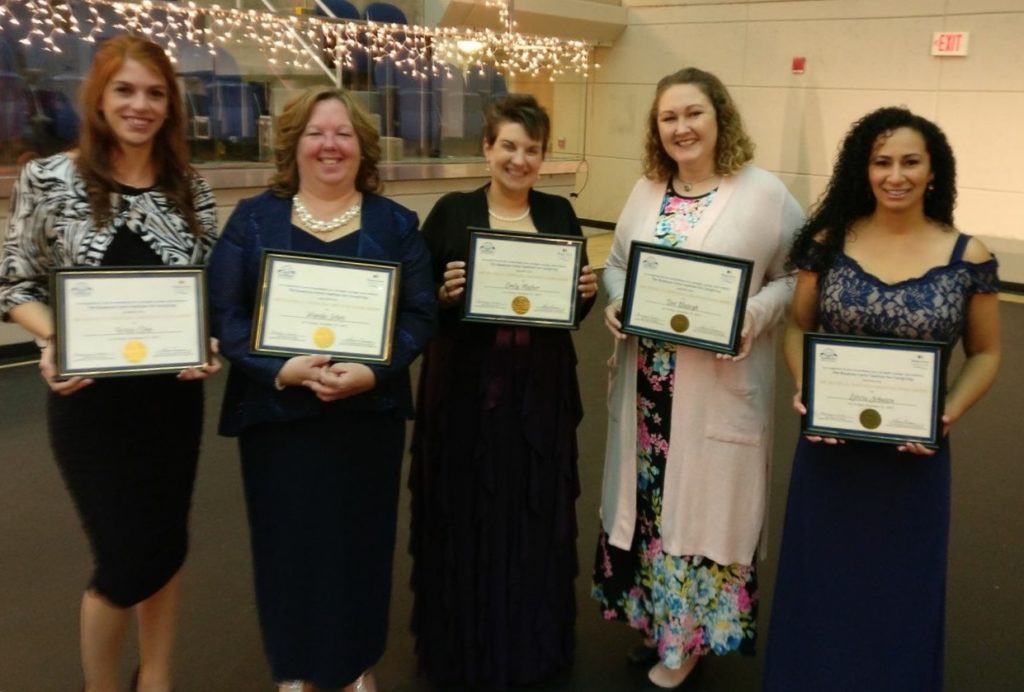 The Mattie J.T. Stepanek Caregiving Scholarship provides financial assistance to military caregivers who have already reached out for the help that will better equip them to support their loved ones. Each of these women has found a way to care for herself, even as she cares for someone else. Each has completed Operation Family Caregiver (OFC), RCI's signature military program which provides support to the caregivers of service members and veterans who have been injured. The following caregivers received Stepanek Caregiving Scholarships in 2017.
Deidre Blascyk (Fort Hood, TX)
Deidre is battling the war at home on many fronts. Since 2008, she has been the primary caregiver for her ex-husband, a Navy veteran with pins in his legs, and emotional and behavioral issues. When Deidre's current husband left the Army in 2016, she began helping him through health concerns including frequent headaches, mood swings, trouble breathing, and knee and back pain. And recently, Deidre's youngest daughter was diagnosed with a rare genetic disease that causes progressive neurological impairment throughout childhood and into the adult years. Deidre's is a seasoned caregiver who has benefited greatly from the guidance given by her OFC coach.
Krista Cline (San Antonio, TX)
Krista married her high school sweetheart just two months before his first deployment to Iraq. When he returned, she immediately noticed that something had changed. It took many years before Krista and her husband were finally able to face his challenges together, and when they discovered he was suffering from PTSD, Krista found herself in a new role as his caregiver. Krista found herself lonely, anxious, confused, and afraid, but she discovered a beacon of hope in OFC. After nine months of coaching, she finally can see a future again for herself and her husband. Krista recently was certified to be a coach for others, feeling thankful for the support she received and hopeful that she can be a beacon to others in her position.
Wanda Ickes (Alum Bank, PA)
When Wanda and her husband met, he had already been through a serious military accident that left him injured and struggling. But subsequent injuries worsened his condition, and one final incident in January 2008 ended his military career. With little support from the military after he returned, Wanda discovered a new role: she became a fierce advocate for her husband, and she has been active in the caregiving community since then. While a student at the University of Pittsburgh at Johnstown, she was hired as an intern with OFC and then became a certified coach to help others in the program. She is a Caregiver Fellow with the Elizabeth Dole Foundation and a Peer Mentor with the VA Caregiver Peer Support Mentoring Program. In June of 2017, Wanda testified before the U.S. Senate Special Committee on Aging in support of the Military and Veteran Caregiver Services Improvement Act. She has benefited greatly from her experience with OFC and other caregiver organizations.
Leticia Johnson (Orlando, FL)
Leticia was a single mother and taking care of her own mother when she was moved to search online for an old friend who had once been a romantic interest. This time, their timing was right, and within a year, they were married. But soon, she noticed a difference in her husband, and feared she would lose him to suicide. Leticia knew she needed to do something. She reached out to OFC and helped her husband, now diagnosed with PTSD and a variety of physical ailments, find help groups as well. OFC and other programs, along with a loving family, have provided the support Leticia needed to find a better life with her family.
Emily Mather (Batavia, Ohio)
Emily had been married for three years when her husband was shot in the face by a sniper while on patrol in Baghdad, Iraq. Emily had been a key spouse volunteer (an Air Force program that supports families) and the family readiness leader for her husband's unit, but when the tides turned, there was no protocol for who would play that role for her. She struggled but soon found her way. When Emily's husband came home, she learned everything she needed to know about how to be his caregiver, and after a time she began to focus on herself as well. She enrolled in OFC last year and after completing the program, trained to be a caregiver coach herself. Emily acknowledges that life is a "constant journey of healing and self-love."
"Each of these military caregivers are coping with challenges we all hope we never have to face," said RCI's executive director Dr. Leisa Easom, "but they wake up and face the morning every single day. They are strong and resilient and an inspiration. It is my great honor to formally recognize them for their dedication."
The scholarships are named for Mattie J.T. Stepanek, a dear friend of President and Former First Lady Rosalynn Carter. Mattie believed that although we all have life storms, there is a champion within each of us, waiting to emerge and pull us through. He died on June 22, 2004, just a month before his 14th birthday, due to complications of Dysautonomic Mitochondrial Myopathy, a rare and fatal neuromuscular disease. During his brief life, Mattie created seven New York Times bestselling books and served as the National Goodwill Ambassador for the Muscular Dystrophy Association. His philosophy of "remembering to play after every storm" has brought inspiration and hope to millions worldwide. The Rosalynn Carter Institute's (RCI) Mattie J.T. Stepanek Caregiving Scholarship honors Mattie's memory by supporting those who care for their loved ones.