Rosalynn Carter Leadership in Caregiving Award

In October of 2010, RCI released "Averting the Caregiving Crisis: Why We Must Act Now", a position paper outlining 12 recommendations for addressing our nation's caregiving crisis. To sharpen our focus and advance this agenda, in 2013 we restated the twelve original recommendations as six strategic initiatives in "Averting the Caregiving Crisis: An Update".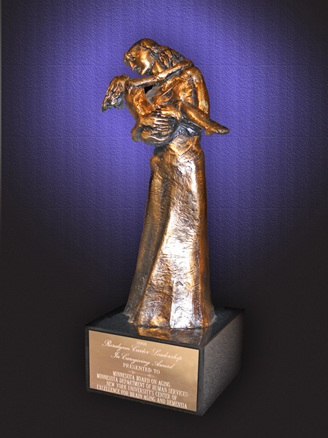 The Rosalynn Carter Leadership in Caregiving Award goes to an individual or organization that has taken concrete action in making these initiatives a reality. Named in honor of a great humanitarian, it is the highest award given in the caregiving field with a $15,000 cash award generously donated by Johnson & Johnson. In addition to the cash award, awardee(s) will receive a beautiful statuette originally commissioned by former RCI Board member, Val Halamandaris, and executed by renowned sculptor Frank Eliscu, designer of the Heisman Trophy.

Award nominees shall have clearly demonstrated progress in one or more of the following areas:
Educating the public about the critical role family caregivers play in our nation's long-term health care system and the risks associated with serving in that role
Assuring that caregivers receive evidence-based, effective support services that target their identified needs
Supporting the translation of evidence-based caregiver programs into community settings
Advocating for tax and public policy changes
Targeting investments that lead to sustainable funding
Providing leadership for the coordination of efforts to support family caregivers
Application Instructions:
There is no formal application form. Instead, please email the following information to MaryMargaret.Fox@gsw.edu by the deadline of August 31, 2018.
Name and contact information for the nominator
Name and contact information for the nominee(s)
Narrative explanation (10 page limit) of how the nominee(s) have successfully addressed the caregiving crisis in one or more of the above areas 
Our 2017 winner, The Wellness and Caregiver Center of Ventura County, was recently announced at the 30th Anniversary Summit. Learn more >>