Rosalynn Carter Institute for Caregiving Names Executive Director
Dr. Jennifer Olsen Named Executive Director of the Rosalynn Carter Institute for Caregiving

AMERICUS, GA — Following a nationwide search by Georgia Southwestern State University (GSW), Jennifer Olsen, DrPH, has been hired as the new executive director of the Rosalynn Carter Institute for Caregiving (RCI) effective October 1, 2018. She will replace Brian Adler, Ph.D., retired GSW provost, who has served as interim executive director since Leisa Easom, Ph.D., left the position in June 2018 to lead GSW's Long-Term Care Management program.
Olsen is a public health advisor with 18 years of experience in epidemiology, emergency management and public health technology. She has previously worked with Skoll Global Threats Fund in San Francisco, the U.S. Department of Health & Human Services in Washington, D.C., and the Defense Threat Reduction Agency in Fort Belvoir, Va. Over the course of her career, Olsen has established a reputation for developing and operationalizing cross-sector partnerships to solve health challenges. This expertise will serve her well as she joins RCI, which is devoted to supporting caregivers, an enormous public health need that continues to grow even greater.
"I am excited to join RCI and build upon the Institute's 31 years of amazing work supporting caregivers," said Olsen. "I look forward to helping share the great research and resources the Institute has already developed with more caregivers in more places, and developing new tools to help the caregivers of today and tomorrow."
Olsen was drawn to the RCI not only for the professional opportunity it offered but also for a more personal reason: her grandmother battles Alzheimer's disease and caregiving has become a much more personal issue.
"During the past few years, I have had the chance to spend significant time watching the struggles of both caregivers and the patient, and realizing there is a need for more research, innovation, and advocating throughout the United States," Olsen said.
As executive director, Olsen will be responsible for providing innovative and collaborative leadership to the Institute, as well as building upon its established national programs, which work to improve the lives of caregivers. She will work closely with Rosalynn Carter, the founder of the RCI and president of the Board of Directors, to ensure the Institute represents the former First Lady's interests and concerns.
"I am impressed by Dr. Olsen's previous accomplishments, and I know she will be an asset to the Rosalynn Carter Institute for Caregiving," said Carter after their first meeting.
"I am pleased to welcome Dr. Olsen to GSW's campus," said GSW President Neal Weaver, Ph.D. "I believe she will be a fantastic addition to the RCI team as they continue their efforts to support caregivers."
Olsen received her Doctor of Public Health from the University of North Carolina Chapel Hill. Prior to this, she earned her Bachelor of Arts in biomathematics at Rutgers University and her Master of Public Health in epidemiology at George Washington University.
She and her husband Ken Sosnick, who is an energy consultant, will move to Plains, Ga., where they look forward to having a fruit and vegetable garden and exploring southwest Georgia.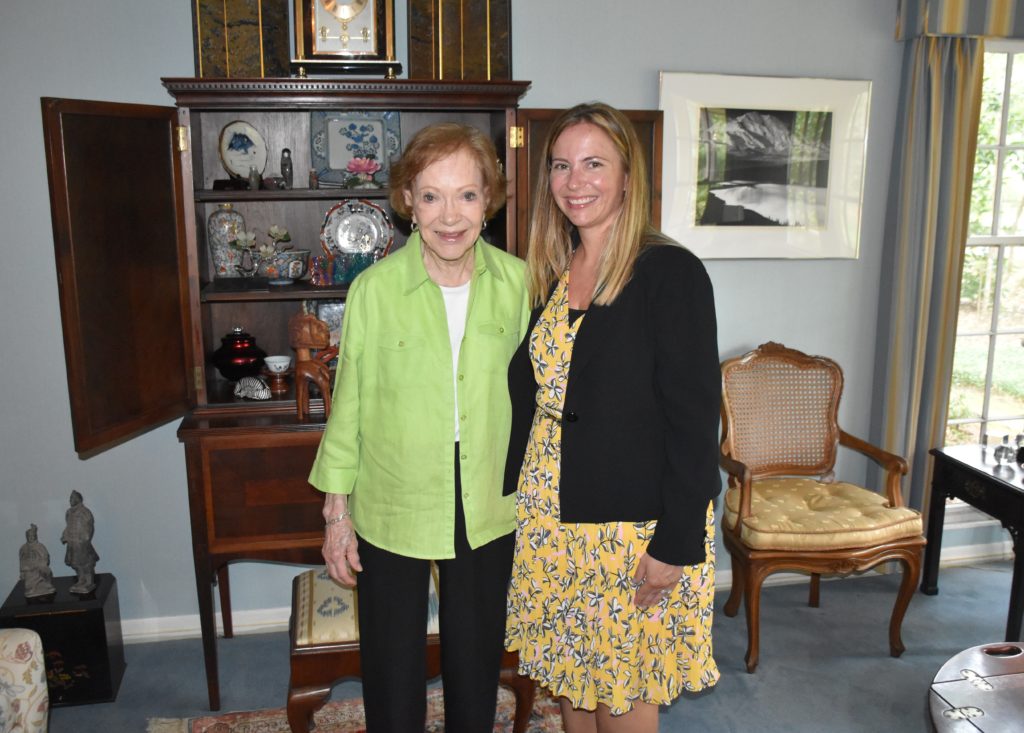 Rosalynn Carter (left) and Jennifer Olsen (right) meet at the Carter residence in Plains