Rosalynn Carter Institute Recognizes Older Americans Month 2017: 'Age Out Loud!'
AMERICUS, GEORGIA (May 3, 2017) — Each year, the month of May is designated as Older Americans Month. The theme, as issued by the Administration for Community Living and U.S. Administration on Aging, for this year's celebration—"Age Out Loud"—gives aging a new voice to reflect what today's older adults have to say.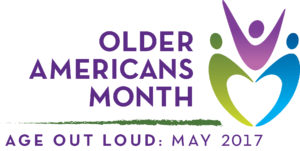 Since 1963, Older Americans Month(OAM) has been a time to celebrate older Americans, their stories, and their contributions. The annual observance offers a special opportunity to learn about, support, and recognize our nation's older citizens. This year's theme, "Age Out Loud," emphasizes the ways older adults are living their lives with boldness, confidence, and passion while serving as an inspiration to people of all ages.
"Older adults are a growing and increasingly vital part of our country," said Leisa Easom, Ph.D., executive director of the Rosalynn Carter Institute for Caregiving (RCI). "Providing support and assistance to them is our key objective."
The RCI works to provide greater recognition and support to both family and professional caregivers. These family and professional caregivers, many of which are older Americans, are coping with chronic illnesses and disabilities across the lifespan as well as limitations due to aging. The RCI will use OAM 2017 to focus on how older adults in the community are redefining aging—through work or family interests, by taking charge of their health and staying independent for as long as possible, and through their community and advocacy efforts.
More than ever before, older Americans are working longer, trying new things, and engaging in their communities. They're taking charge, striving for wellness, focusing on independence, and advocating for themselves and others. What it means to age has changed, and OAM 2017 is a perfect opportunity to recognize and celebrate what getting older looks like today.
Join us as we speak up for #OAM17 and #AgeOutLoud this May!